Final year Bachelor of Social Science student Janis Ritchie
Earlier this year, 25 of our Forensic Science students visited the historic North Head Quarantine Station, one of the oldest surviving quarantine facilities in Australia. Janis Ritchie was one of the students who worked in the hot February heat to locate and report on numerous unmarked graves.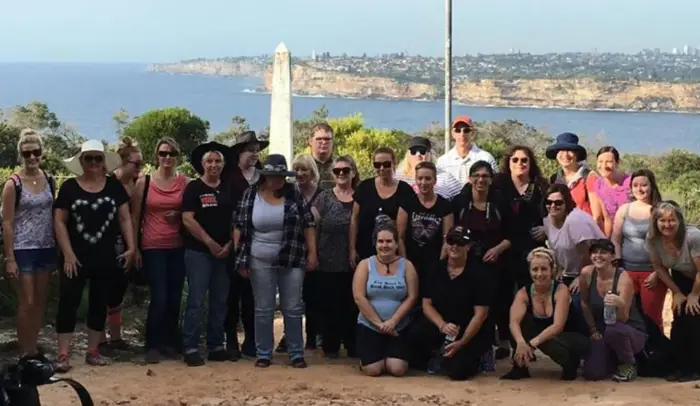 Tell us about the Sydney Quarantine Station project.
I was recently offered a chance to stay at the Sydney Quarantine Station barracks for a week to partake in some hands-on fieldwork with Louise and Gerald Steding. They're currently working on a project at the quarantine station to locate unmarked soldiers' graves.
Louise had organised a full program of guest speakers for us, including representatives from the Sydney Federation Trust and a mainstream Archaeologist. We also had presentations from an acting police superintendent, a Private Investigator and a Forensic Anthropologist, who talked to us about career options available in the fields we are studying. This was extremely useful to us as undergraduate students, to be exposed to various career options that we may never have considered.
What did you enjoy about the experience?
My favourite part of the week was learning how to use the ground penetrating radar machines in the cemetery to attempt to locate unmarked graves. It was such a privilege to take part in this experience, one I will be forever grateful for! We also did some mock grave burials/dig ups with Louise and Elke. They taught us what to look for in the bush and how to go about retrieving a body or bones without causing damage or contaminating the evidence.
I learned so much in just one week and it has really strengthened my determination to continue with post graduate study and gain the qualifications needed to follow my desired career path. It was also fantastic to meet other online students whom I had studied units with and chat to them face to face.
What made you want to pursue a degree through Swinburne Online?
I chose to study with Swinburne online as I live in a rural area. Plus, having not studied for many years I felt it would enable me to ease into studying at a pace I was comfortable with.
Why did you choose to study a Bachelor of Social Science?
My aim is to work in the field of forensic psychology a few years down the track after completing further post graduate studies. I'm majoring in psychology and I'm covering the major and core units from the forensics and criminology stream as electives.