Get a degree while living your best van-life.
Ever wanted to get a degree while cruising around the country in a decked-out van? Turns out chasing your career goals and living your best travel life aren't mutually exclusive. 24 year-old Victorian Ally Beagley is doing just that.
Ally is in her second year at Swinburne Online studying business, currently located… well, we don't know where exactly. It changes every day. Ally and her partner, Matt, are travelling around Australia in a custom-built van, working and studying full-time from the road.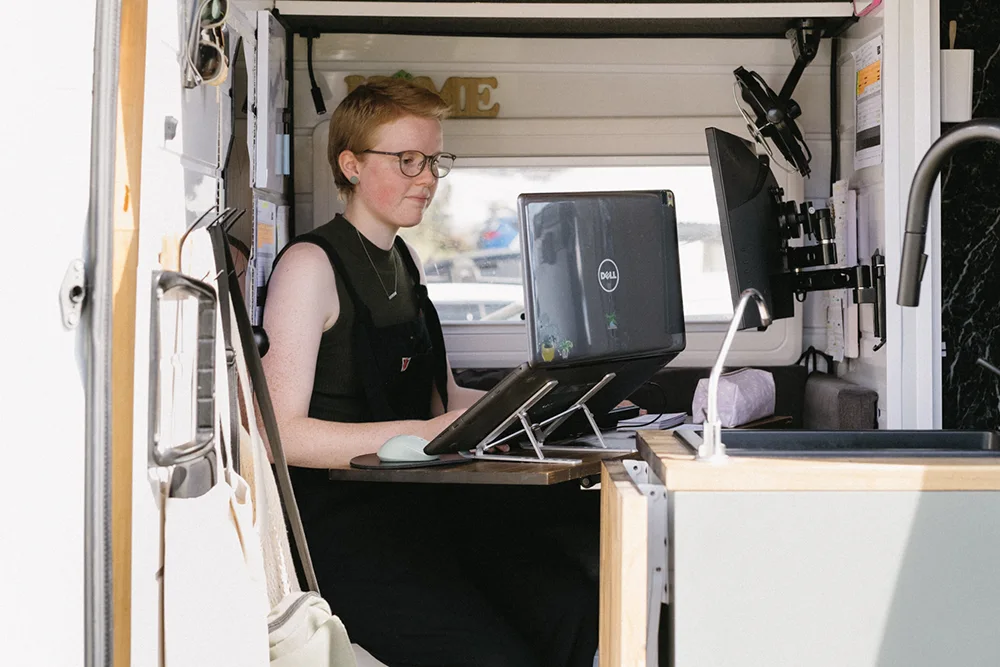 'We've been 'vanlifers' on and off since 2020, but we started this trip from the Mornington Peninsula to Queensland in February,' Ally says. 'We try to be on the road as much as we can, returning home for family holidays, to swap over gear, or pick up work if needed.'
With flexible online study and the wonders of mobile hotspots, it's possible to complete an entire bachelor's degree from almost anywhere these days. We sat down with Ally to get some tips on van life, remote learning, and balancing spreadsheets with adventure.
GET ORGANISED
Ally says the key with remote study is organisation. You can be a nomadic free spirit as much as you want, but those semester deadlines aren't going anywhere. 'I found studying online pretty tricky at the beginning. I learned fast that I needed to create some sort of routine or visual way to track my study while on the road, otherwise it's easy to fall behind.' Now Ally has a physical study planner stuck to the wall of the van, plus a whiteboard with a weekly to-do list. By keeping everything visible and organised, she can finish her degree, chase her career goals, and explore Australia at the same time.
'I love crossing things off my planner, so that definitely helps with motivation.'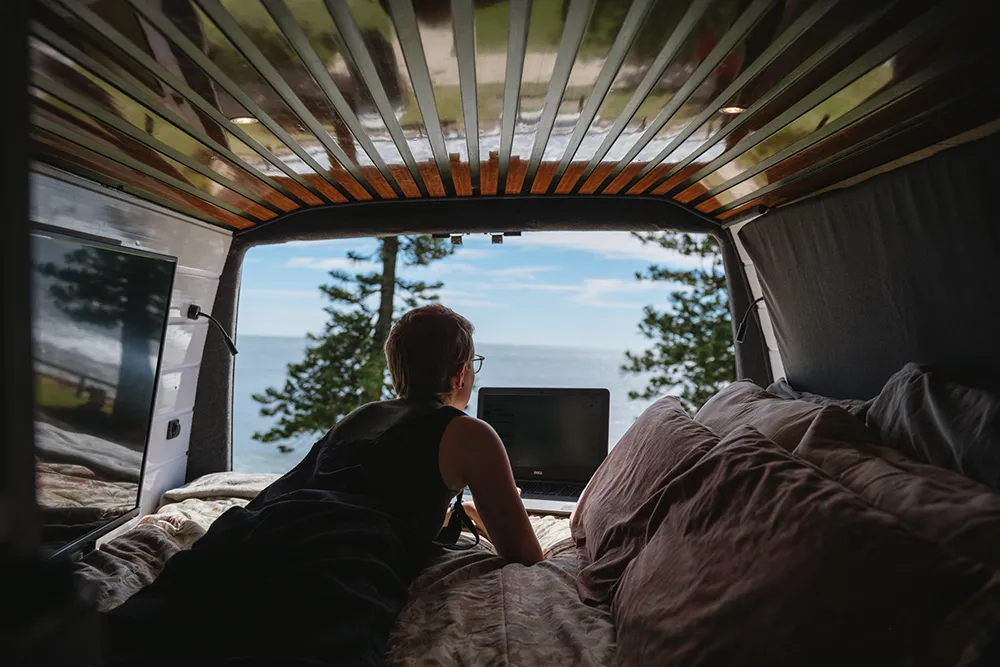 STUDENT SUPPORT IS YOUR FRIEND
If you want to try the study-adventure life, you need a reputable uni with a great admissions team and ongoing support. It makes a huge difference. Remote learning institutions, like Swinburne Online, actually specialise in this stuff, so you know you're in good hands. 'I wanted to study online, due to our travels, and in-person learning wasn't really an option,' Ally says. 'I needed something flexible, and I also wanted to go with a well-known uni. I liked the course structure at Swinburne Online, and the admissions team were super helpful and friendly.' Ally says online feedback is also key. She can always reach out to her tutors for help, either in real time or through the student portal.
'I often receive messages from my teachers, congratulating me on assignment scores. It helps the whole thing feel more personal,' she says.
WORK WHEN YOU WANT
Ally structures her week just like any student ­– but it's flipped. Instead of working on weekdays and taking the weekends off, Saturdays and Sundays are time to hit the books. 'I like to study on weekends so that we can explore popular areas during the week, when it's quieter. Weekend parking in a 7.3m van is not fun!' she says. 'Because I'm studying online, I can access and complete my coursework whenever I want, which is super handy. There are no set days or hours.' The important bit is to find a rhythm that suits you. As long as you chip away at the coursework regularly, you can explore and travel the rest of the time – guilt free!
DON'T NEGLECT THE TECH
It probably goes without saying, but remote learning from a van in the middle of nowhere needs good tech. A mobile, charging ports, a generator or battery, internet reception, data storage, plus headphones for Zoom meetings. Ally uses her phone to tether, so she can work anywhere that has reception (if you're going down this route, just make sure you have a generous mobile data plan.) 'The only things I have to be 'live' for are group assignments with fixed Zoom meetings,' she says, 'and they're always arranged in advance, so we can find somewhere quite with good reception.'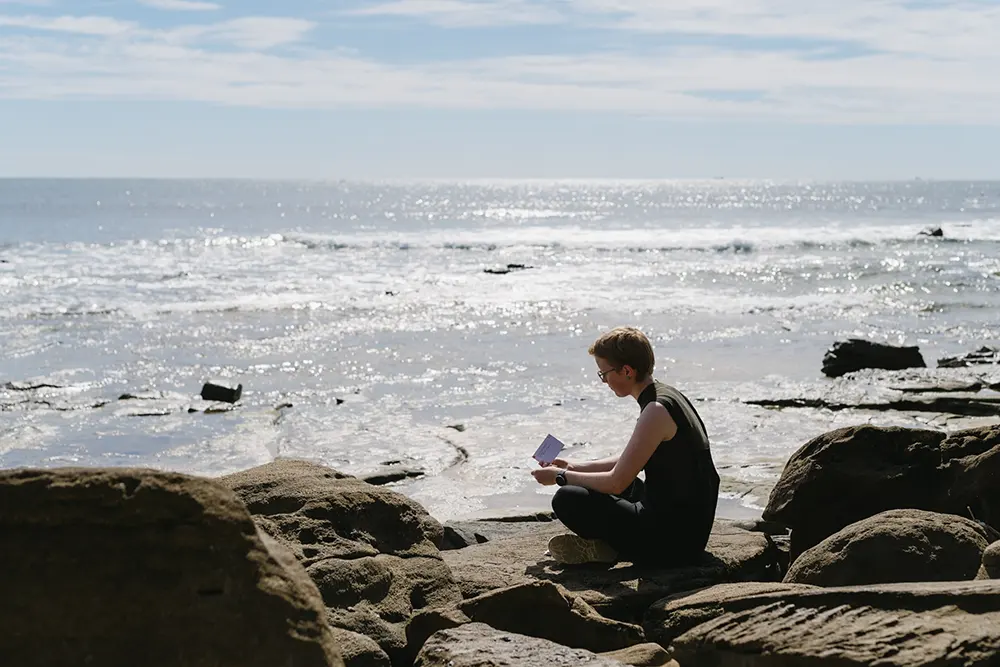 GO WITH THE FLOW
When you're tramping around the country in a van, studying as you go, things will go wrong. It's just the way van life works. Ally says the trick is to be flexible and roll with the punches. If you're falling behind, or you don't understand something, or you're struggling with an assignment, just reach out for help. And don't sweat the small stuff.
'At Trial Bay, we actually drove off without our shoes,' she says, 'and when you're living in a van, you don't have many shoes! We had to detour an hour back – and they were still sitting there in the carpark. But there was a silver lining: because of that detour, we got to see a huge goanna crossing the road, which was really special.'
Ultimately, you can't know if you're going to like on-road van study till you try it, so Ally's advice is just to give it a go. 'If you're thinking about van life, go for it!' she says. 'Maybe hire a van and see if it's for you. Life's short!'
If you want the flexibility to study on your terms so you can prioritise what matters to you, explore our range of online Business courses.